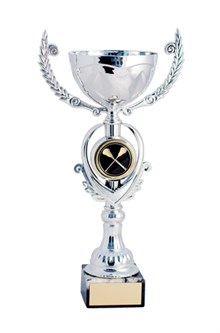 Lacrosse Trophy with black and white marble base.
Available in:
15 inch tall - $39.00 each
16 inch tall - $45.00 each
Choice of silver or gold crossed stick medallion.
2" x 4" engravable gold brass plate. Engraving $ .15 per letter.
Refer to the UPS map using zip code 28403 for regular ground shipping days to your area.
***Please allow 3-5 business days to process plus shipping time***
If your order is needed in less time please call us at 1-800-249-5772
CMA-219 Lacrosse Trophy
code: CMA219
$39.00