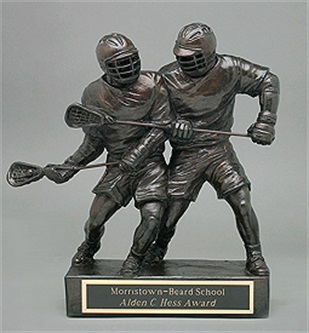 Lacrosse Specialties exclusive design made of Industrial Resin 14 inch Sculpture/Two Lacrosse Players in Action with Standard Base.
Engraving plate 1 1/2" X 7".
Optional custom base 6" X 10" available $106.00. http://www.lacrossespecialties.com/gallery/detail.aspx id=2295 (See photo below)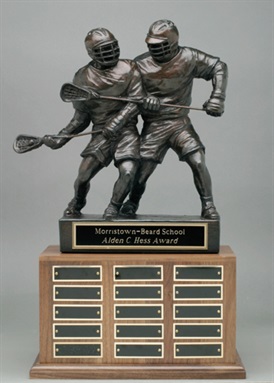 Also available, Anniversary Plates for 6 X 10 custom base: $2.50 each plus $.15 per letter engraving. 15 anniversary plates are recommended as shown.
Refer to the UPS map using zip code 28403 for regular ground shipping days to your area.
***Please allow 3-5 business day for engraved items plus shipping time***
If your order is needed in less time please call us at 1-800-249-5772
LSS-14 - Two Male Lacrosse Player Sculpture
code: LSS14
$159.00