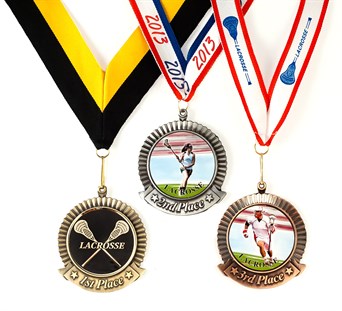 2 3/4" 1st, 2nd, 3rd Place Lacrosse Medal with choice of Male, Female or Crossed Stick Mylar.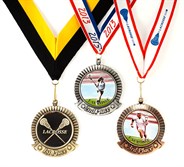 FREE Red/White/Blue or Lacrosse logo neck ribbon.
Please add $.15 for school color ribbon. Please indicate ribbon color in Additional Information box.


Engraving on medals $.75 each

Available in 1st Place Gold, 2nd Place Silver and 3rd Place Bronze with same color engraving plate on back of medal. Please indicate 1st, 2nd or 3rd place in text box.

Quantity Price discounts:
1-23.....$5.25 each
24-49....$5.10 each
50-99....$4.95 each
100-199....$4.80 each
200+....$4.70 each

Refer to the UPS map using zip code 28403 for regular ground shipping days to your area.
***Stock Items without engraving take 1-3 business days to process plus shipping time***
***Please allow 3-5 business day for engraved items plus shipping time***
If your order is needed in less time please call us at 1-800-249-5772
MDL-PL - Lacrosse Medal ***AS LOW AS $4.70***
code: MDL-PL
$5.25