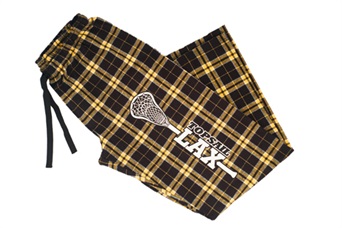 ***Custom order. Please call 1-800-249-5772 to place your order***
* Constructed from lightweight 4 oz, 100% cotton flannel.
* Features imprintable taping.
* Sized Adult S-XXL.
* Unisex Fit.
* Print locations include vertical leg print, thigh print, taping or butt print.

Price includes 2 color print on 1 location.
Quantity pricing:
6-23 - $24.95 each
24-47 - $22.95 each
48+ - $19.95 each
Please add $2.00 for XXL size.
Available in: black/white, black/pink, black/gold, orange/white, orange/navy, orange/black, cardinal/white, columbia blue/white, forest/white, gold/white, gray/white, kelly green/white, maroon/white, maroon/gold, navy/gold, navy/white, navy/columbia, navy/red, purple/white, red/white, red/black, red/gold, red/silver, silver/black, teal/black, royal/gold, royal/silver or royal/white.
Please e-mail artwork/logo to /gallery/detail.aspx

Refer to the UPS map using zip code 28403 for regular ground shipping days to your area.
***Stock Items without engraving take 7-10 business days to process plus shipping time***
Custom Flannel Pants
code: Flannel
$24.95