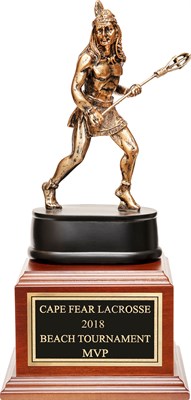 $74.95
FEATURED
Exclusive Lacrosse Specialties Design

8" Pewter Native American Lacrosse Resin Figure on 6" X 6" X 4" wood Base with engraving plate.

Figure features gold accents and a black base.

Price includes engraving.
Refer to the UPS map using zip code 28403 for regular ground shipping days to your area.
***Please allow 7-10 business days to process plus shipping time***
If your order is needed in less time please call us at 1-800-249-5772